How to Seal Decks, Paths, Patios, Slates, Tiles and Slabs - repel moisture, dirt, slime & mould
Breathing coatings to repel water from decks and patios.
Click here to see products and prices
Click here to go to the top of this page
---
Ultra Proof - the best repellent treatment for Decks, Patios, Drives and paved areas. Applied in one brush or spray coat. It forms a clear layer, repelling moisture and preventing the growth of slime and algae. Apply after cleaning - use our cleansing wash or a pressure washer.
Ultra Proof benefits;
Rapid drying - 2 hours max.
Can be applied to a damp surface
Easy to apply
Clear finish
Only need one coat for full protection
Brush or spray on
Non staining
Impermeable to rain and frost
Resists traffic wear
Click here to see products and prices
Click here to go to the top of this page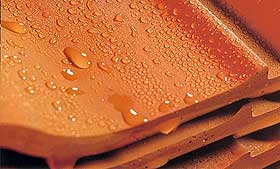 Ultra Proof on terra-cotta tiles
Available in 5 litre and 25 litre cans, ready to use
Click here to see products and prices
Click here to go to the top of this page
---
Treatment Conditions
- use our Mold Cleaner Concentrate, diluted in water, to clean dirty wooden decks, concrete, stones, bricks and wood before sealing
- after washing with our Ultra Deck Cleaning Detergent and a fresh water rinse, apply a coat of Ultra Deck Cleaner to the damp surface at 4 square metres per litre to remove all surface dirt, to avoid trapping it below the coating
- avoid periods of rain or high humidity, to prevent the product from being diluted before it has dried
Click here to see products and prices
Click here to go to the top of this page
---
History of Boron | How Much Boron do I need? | Shop | Boron References
Privacy Policy | Returns Policy | Contact
---
Other Property Repair Systems Group Web Sites:
www.boron.org.uk - how to use Boron based insecticides/fungicides to treat timber rots and insect attack
www.dampness-info.co.uk - how to treat penetrating dampness in walls and plaster
www.dryrot.biz - how to kill Dry Rot in buildings
www.drywallandfloor.co.uk - membranes for lining damp walls, floors, basements and cellars
www.epoxy-info.co.uk - resin repair materials for wood indoors and outdoors
www.fire-door-paint.co.uk - upgrade doors to 30 minutes fire resistance
www.fire-info.co.uk - fire fabrics for insulation, flame and smoke barriers
www.joist-repair.co.uk - how to quickly repair joists and beams of any size
www.mold-info.co.uk - kill mould on walls and ceilings, anti mold paints
www.propertyrepairsystems.co.uk - fire retardant paints, hygiene products, metal bracket manufacture, crack injection
www.steel-fire-paint.co.uk - treat steel with Intumescent Paint to provide fire protection
www.timber.org.uk - systems of repair, with step by step methods
www.timber-repair.co.uk - how to repair timbers in buildings without wrecking the place
www.wood-worm.co.uk - how to stop common furniture beetle in buildings
---
Property Repair Systems,
Care of H S Hire, Broadmeadow Industrial Estate, Teignmouth, TQ14 9AE
T: 01626 872886
E: help@propertyrepairsystems.co.uk
---